BJJ | Kickboxing | Muay Thai | CrossFit | Kids
2.9.2015 – 2.15.2015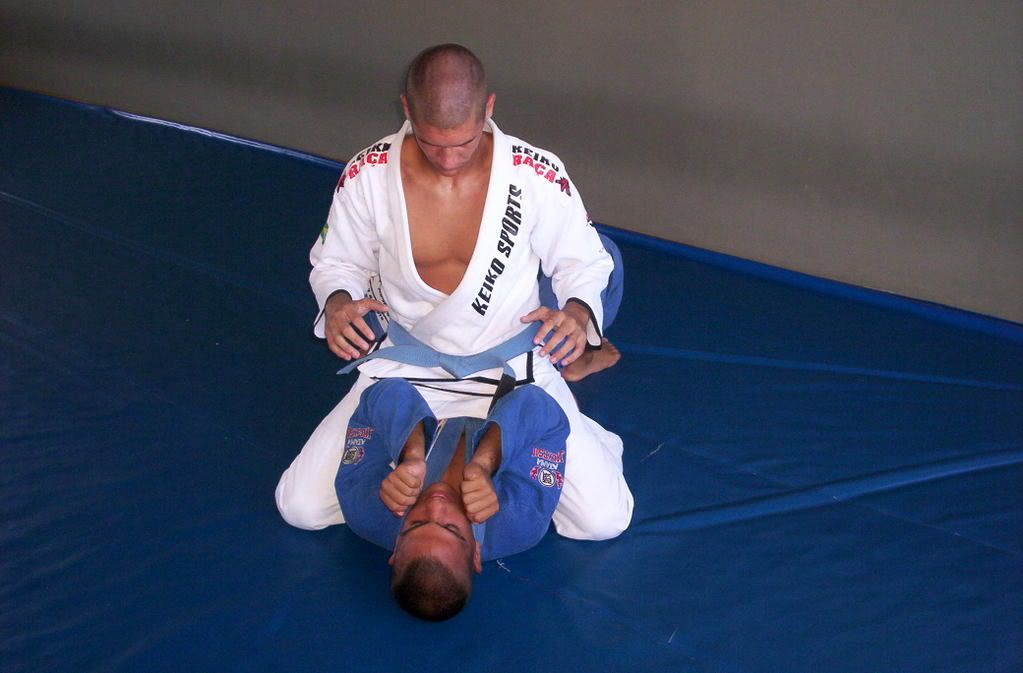 BJJ
Fundamentals – Punch Defense
Standing Punch Defense – First and foremost, Jiu Jitsu is about self-defense. Though you won't be getting punched while you're on the mat, it's important to know how to use your BJJ to defend yourself in real-life situations.
Punch Defense from Closed Guard – This week we'll look at keeping yourself safe from punches from the bottom of closed guard. We'll look at two techniques to get out of punching range–The double under is the same concept as the headlock escape. The double over is crucial to keep safe and get back to your feet if you need to. Make sure your stand up in base is solid!
Intermediate – Mount
Renzo Hip Throw – Also known as the Ippon Seonage, this hip throw allows us to use our partners' momentum to take them quickly to the ground.
Maintaining the Mount (Technical) – Once you have your partner in the mount, you are in a great position to execute a number of submissions. But you need to maintain your position in order to attack. We'll look at a variety of ways to prevent escapes.
Kickboxing – Leg Kicks
Leg kicks are designed to attack the thighs of our opponent, disrupt their balance, and do damage throughout the contest. Leg kicks deal cumulative damage, but they add up quickly! This week we focus on setting up our leg kicks with hand combinations first, in order to increase our chances of landing the kick successfully. Remember to hit with your shin when throwing these kicks!
Fitness Challenge: Plyo Lunges and Dive Bomber Push Ups
Muay Thai – Round Kicks
A strong round kick should be a staple of every Thai Boxer's toolbox! This week we will sharpen up our round kicks and focus on fast kicks while building power. We will work on following our round kicks with combinations as well. We will also look at multiple ways to defend round kicks (block, check, trap) depending on the situation and the rule set. Lots of kicks this week!
Kids – Stranger Alert
This week we'll be focusing on how to identify a stranger, and how to distinguish between apparent friendliness and true good intentions. We'll talk about why it is important to be careful around people we don't know.
BJJ
Little Tigers

– Learning to fall safely is one of the most fundamental Jiu Jitsu techniques, so we'll be practicing the back break fall this week. We'll also look at how to get into a dominant position, and basic boxing.

Tigers

– This week we'll look at one of BJJ's primary guard passing techniques–the underpass.

Advanced Tigers

– We'll practice lining up a sequence of techniques, from pulling guard, to sweeping, and then work on some of our submission options from the mount.
Muay Thai
This week we'll be learning the basic types of elbow strikes, and how to work them into punching combinations.
Announcements
Less than a week to win FREE tickets to the UFC coming up in Denver on the 14th! There are details on your ETC's Facebook page, or check with the front desk to find out how to win! It's easy, and you can enter to win multiple times.
ETC Centennial's own Coach Gigi Good will be fighting for the PFC 135lb. Amateur Championship at the Paramount Theater Downtown on the 6th of March. Everlast will also be performing during the intermission and after the show. Come out and support her in the pursuit of her first title!
Thoughts
"The wise adapt themselves to circumstances, as water molds itself to the pitcher."
~Zen Proverb~
Techniques
https://www.youtube.com/watch?v=jzZPDXJ0Le0&feature=youtu.be