Upcoming Events
Easton Throwdown
ETC Boulder will be hosting an in-house CrossFit competition on October 18th 1:30PM-3:00PM. Everyone is welcome to participate–even students who are not in the CrossFit program. This is a partner competition, and the details of the workout will be released at the start of the competition. Sign-ups will take place at the front desk on the day of the competition. If you don't have a partner, don't worry! Come to the academy, and we'll pair you up with another athlete. Workouts will be scaled for participants based on their experience levels. There will be a potluck BBQ after the competition, so come join us for an afternoon of fun and fitness!


Chris Tramell Title Fight
On Saturday November 15th, Coach Chris Tramell will meet Brian Scraper again, this time for the Sparta Combat League Middleweight Muay Thai Title fight at the Budweiser Events Center. Coach Chris has defeated Scraper before and he's been training hard to do it again next month. Tickets will be available at the front desk.


Cory Sandhagen Selected for US National Kickboxing Team
In March Coach Cory Sandhagen won the World Kickboxing Association (WKA) national tournament in Virginia. As a result of this win, he has been invited to Italy for the WKA World Championship Tournament at the end of this month. Traveling to fight as an amateur is a necessary part of gaining experience and exposure, but it can be very expensive for the fighter, who often has to pay his own way. If you would like to support Cory's trip, please visit his Go Fund Me page.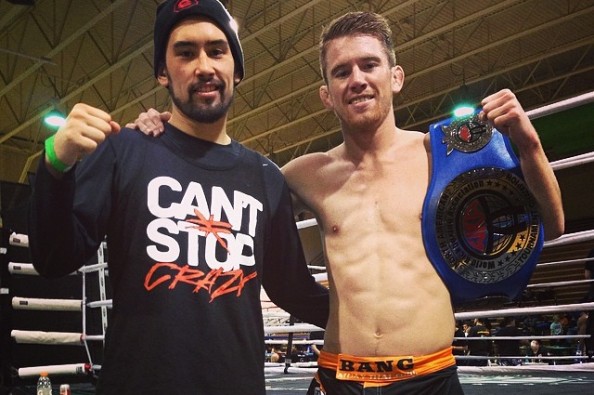 Recent Events
Fitness Challenge
Our very first fitness challenge was a great success! Fifteen athletes spent a month dedicating themselves to a fit lifestyle, taking four classes every week and modifying their diets to meet their bodies' fuel needs. At the end of the challenge, we calculated their scores based on their progress in the pre-challenge and post-challenge assessment, as well as their healthy habits throughout the month. Congratulations to Gigi West for placing first! She will receive a foam roller and a book on the Paleo diet. In second place we have Lee Ryland, who will receive a new CrossFit jump rope. Good work, participants! We'll see you in the next challenge!
 
Coach Gwen is Back!
Coach Gwen Dannenbaum has returned home to Easton. If you haven't met Gwen, she is the most enthusiastic person you'll ever have the pleasure of meeting. Definitely make sure to check out one of her amazing kickboxing or CrossFit classes.