BJJ | Kickboxing | Muay Thai | CrossFit | Kids
4.6.2015 – 4.12.2015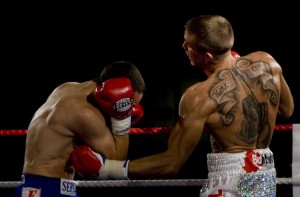 BJJ
Fundamentals – Back Mount
Dragging Rear Naked – Setting up a rear naked choke from a standing position can make it easy for our partners to escape, or even throw us. We'll practice taking our partners to the ground so we can safely finish the choke.
Maintain the Back, Attacks from the Back – Being on your partner's back is a great position to start working on attacks. This week we're going to practice maintaining the back once we're on it, and then look at the rear naked choke and armbar from this position.
Intermediate – Bottom of Half-Guard
Sprawls – Knowing how and when to sprawl is going to be your most valuable defense against attempted takedowns. An effective sprawl will save you points in a match, and help you avoid getting into a bad position.
Frame and Pummel from Half-Guard – Working from the bottom of half-guard, we're going to look at a couple of ways to get into a more dominant position. First, we'll practice setting up a good frame, and using it to replace the guard. Then we'll look at the pummel. Depending on how your partner reacts, you can use the pummel to take the back, set up a sweep, or replace guard.
Kickboxing – Body Punching Combinations
This week we focus on changing levels and attacking the body with punches. We will look at proper body punching mechanics, "sitting into your punches," and using punches up top to set up the powerful body shots. Head-body-head, and body-head-body, will be the mottos this week!
Fitness Challenge: Alligator Push Ups and Bicycle Crunches
Muay Thai – Footwork with Strikes
This week we focus on keeping a good base while changing directions with our strikes. Number one rule with movement: always bring your feet with you! We will learn to strike while changing directions and adapting to the direction of the fight. Line drills will be a big focus this week. Advanced classes, tournament prep will continue. Be ready for another hard week of training. It's almost tournament time!
Kids – No Secrets and Appropriate Touch
We'll continue to talk about appropriate touch, emphasizing that everyone's body is theirs alone, and no one else should touch us in a way that makes us feel uncomfortable.
BJJ
Little Tigers

– We'll be playing a game called Guard Monster, which focuses on using the closed guard to break an opponent's posture.

Tigers

– This month the Tigers class will be looking at the back sweep, the knee-to-elbow mount escape, and the front choke.

Advanced Tigers

– Advanced Tigers will be working on the same techniques as the regular Tigers class, and also adding in the arm drag to double-leg takedown, the Pendy sweep, and an armbar from the top of mount.
Muay Thai
It's all about the kicks this month. We're going to work on round kicks as well as front kicks (also called teep or push kicks). For each technique, we'll break the kick down into steps, making sure everyone has the proper placement, rotation, and balance.
Announcements
BJJ Students…be sure to attend the Bernardo Faria seminar on April 18th from 12-3pm at the Boulder ETC. Bernardo is coming off a dominant performance at the 2015 IBJJF Pan Am Open and will be sharing some of his winning concepts. The seminar is almost full, registration will be closing soon! Talk to your front desk today.
Thoughts
You are not here merely to make a living. You are here in order to enable the world to live more amply, with greater vision, with a finer spirit of hope and achievement. You are here to enrich the world, and you impoverish yourself if you forget the errand.
-Woodrow Wilson
Techniques