BJJ | Kickboxing | Muay Thai | CrossFit | Kids
4.4.2016 – 4.10.2016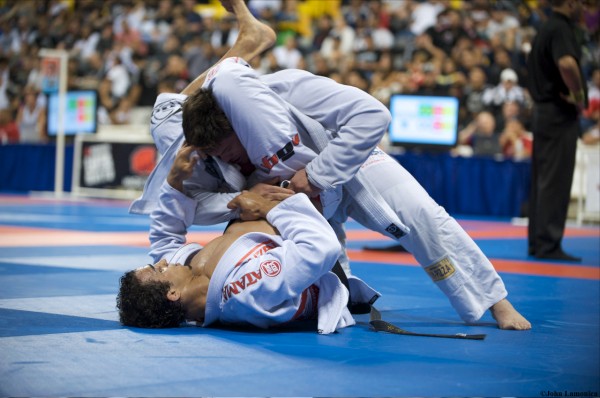 BJJ
Fundamentals – Double-Leg and Triangle Choke
Basic Double-Leg – This wrestling takedown is a necessity for any good grappler. It is a quick, decisive way to take the fight to the ground and done with proper technique, this takedown will bring you to a much better position on the ground. From here, you'll be able to effectively utilize your Jiu-Jitsu to neutralize the threat.
Triangle Choke from Closed Guard – This is one of my favorite attacks for when you have the bottom position in the closed guard. Ideally you would be on top, but when you can't do that…you better have some offense on the bottom. Submit, Sweep, Stand-up. These are the three S's that I like to follow and in this case, the first S is Submit. That's exactly what we will do this week!
Intermediate – Headlock Defense
Standing Headlock Defense – Headlocks are not good weapons for fighting unless you have used them or versions of them for a long time (wrestlers, judoka). The good news is that most people do not have nearly enough experience using them to make them effective. Also, with these techniques and some practice, you'll be able to escape all types of headlocks…good and bad.
Ground Headlock Defense – If you're caught off guard, someone may be able to throw you to the ground in a head lock. They also happen when you are pummeling out from bottom of side control, or half-guard. At the point you are about to escape, it is common for the opponent to grab you in a headlock to stop your progress. At this point, you will be lost without the techniques from this week's class. We will be covering several ways to turn the tides in your favor from this position.
Kickboxing – Attacking the Body
This week in Kickboxing Level 1, we focus on body punching. Learning to attack the body and set these shots up requires a combination of patience, timing, and accuracy. When landed properly, these body shots can deliver serious damage and often times incapacitate the opponent. In Western boxing, there is a technique called "riding the elevator," which means changing levels with your attack. Either going upstairs, then downstairs, or vice versa. We will focus on setting up our body shots with head shots first, which will open up the opponent's body!

Muay Thai – Clinch and Inside Work
Clinch and inside work this week! Clinch entries from middle range, striking your way into the clinch, hand position and posture. From there, we will work into strikes in the clinch, changing hand positing and steering your opponent, and eventually working sweeps and off-balancing your opponent. We will also touch on clinch defense and escapes. If your opponent has a strong clinch, its often best to avoid his specialty. We will look at anti-clinch techniques as well to keep us away from the inside grapple.
Announcements
Fight To Win Pro 4 is right around the corner and we have a total of 15 ETC competitors competing! This should be an event where we absolutely own the crowd, so come through and enjoy an evening surrounded by your ETC teammates and coaches. Lets celebrate Jiu-Jitsu together and watch as our talented coaches and students #showcasetheart!
Thoughts
One of the most important things I've learned in life, is to ignore most of what people say. I watch what they do instead.
~Amanda Patterson
Techniques